2018 Synapse Disc Women's 105
| | |
| --- | --- |
| Brand: | Cannondale |
| Availability: | Out of stock |
| Delivery time: | Item must be picked up in store. |
On anything from fast group rides to daily commutes, the Synapse's light weight, comfortable sportive position and smooth ride will help you fall in love with cycling.
This is the best bicycle for women due to the low weight, comfort, and supportive position it provides.
The supportive and sporty frame for this bicycle is able to carry you over choppy surfaces and through tight spaces.
You can ride on rough roads, highways, byways, and back roads due to the sturdiness of these tires.
Are you prepared for the best bicycle to race on? With the endurance race geometry and the save micro-suspension, this bicycle is able to endure harsh, choppy roads and balance you perfectly for a great performance while racing. You'll have the endurance you need and the race level stiffness to have an enjoyable and powerful ride. For a bicycle with power, this one is able to make you the top contender in your next race.
Made for race level stiffness
Women's bike
Available in sizes 44, 48, 51, and 54
Product Specification
NEW Synapse Disc Women's, SmartForm C2 Alloy, SAVE PLUS, BB30
NEW Synapse SAVE Disc Asymmetric, Carbon blades, 1-1/8" - 1 1/4" Tapered Steerer, flat mount, 60mm rake (44-51), 50mm rake (54)
Formula CX-20 Front, CX-22 Rear
FSA Gossamer, BB30, 50/34
Shimano 105, 11-32, 11-speed
Cannondale C3 Women's Compact, butted 6061 Alloy
Cannondale Grip Bar Tape w/Gel, 3.5mm
Cannondale C3, 6061 Alloy, 31.8, 6 deg.
FSA Integrated, 1-1/4" lower bearing, 25mm top cap
TRP Spyre C cable disc, 160/160mm
Cannondale Stage Ergo Women's
Cannondale C3, 6061 Alloy, 25.4x350mm
Technology Innovation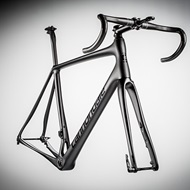 Race Level Stiffness
Race Level StiffnessAn asymmetrically designed frame and fork balance pedalling and disc loads to deliver World Tour sprinter level stiffness. Get ready to lay down power and rail corners like you wouldn't believe.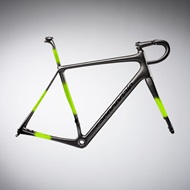 Save Micro-Suspension
Save Micro-SuspensionEngineered to tune the harshness out of choppy road surfaces, and tune you in to what's happening at your tires' contact patches, so that you can concentrate on the important stuff – like nailing the right line or beating the sun home.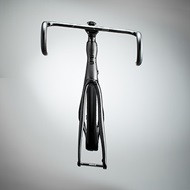 Endurance Race Geometry
Endurance Race GeometryEndurance Race Geometry strikes the perfect performance balance between full race aggression and the relaxed upright comfort of other "endurance" rigs.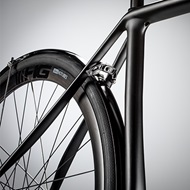 Full Fender Compatibility
Fender UpHidden mounts and a removable seat stay bridge ensure that the Synapse is fully fender-ready for long days with no spray.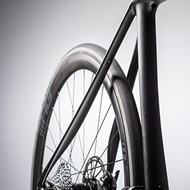 Room for 32mm Tires
Room For 32Embrace the backroads, the rough roads, the highways and the byways. With room in the front and rear for tires as big as 32mm (measured/actual) and SAVE Micro-Suspension, Synapse is ready for any road, anywhere.