Posted on
By Spencer Felton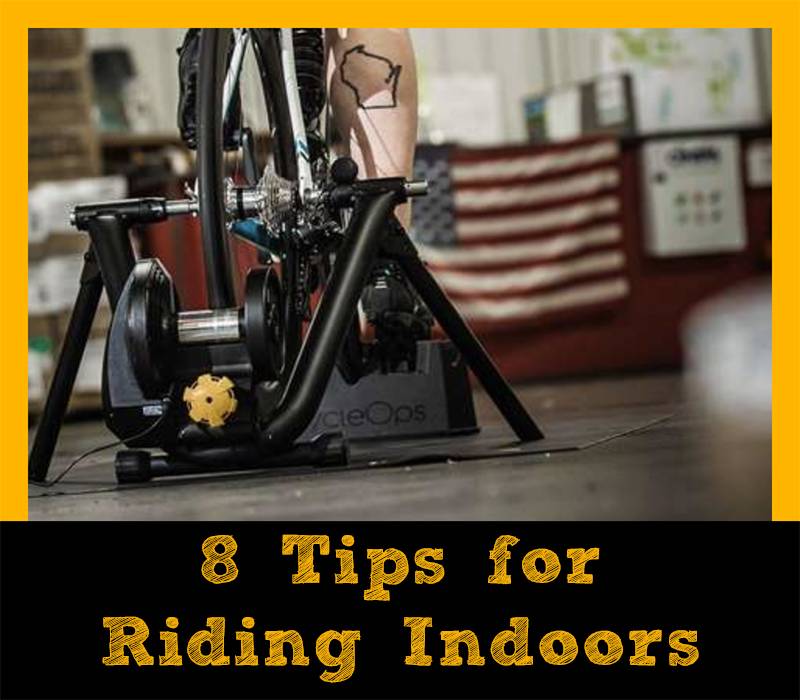 When the cold forces you indoors, you had better be prepared for the trainer. With these tips, you might be able to keep up with me once the snow melts.
Don't forget to stretch before and after. 
Daily stretching is an incredible habit to implement into a daily routine. A few minutes a day adds up to years you don't have to rely on others to put your shoes on. In general, studies have found that on the majority, we, as cyclists especially, don't take the time to stretch and it is totally understandable. Marathon runners and swimmers understand the need to stretch, but cyclists often forget this little caveat. Even though cycling is a low impact sport, a lack of stretching may result in what medical professionals call adaptive muscle shortening. Essentially, AMS occurs when cyclists don't take adequate time to fully stretch out the hamstrings and the muscle fibers essentially become shorter over time. It's painful and takes you off the bike for a while so be sure to limber up both before and after your ride.

Rollers or lacrosse balls

A key piece of equipment in my armory is the foam roller. After a challenging ride, be it indoor or out, I always take time to roll out my legs and my back. Again, if you want to need someone to put your socks on when you're older just go ahead and skip this part.
Equipment is key
Proper Gear 
One of the most drastic changes in any cycling experience is getting the right gear. For indoor cycling, many people discount the comfort and gentlemanly health benefits of wearing cycling shorts anytime you sit on a hard seat for an extended period. Not to be forgotten, all the ladies are sure to spin in comfort with some padded shorts. They are more comfortable and ensure an enjoyable ride and make cycling that much better. *Pro-tip, be sure to wash your gear after every use or run the risk of all types of problems in your "personal business" if you know what I'm saying.

Another important topic is footwear. While clipless, the ones that DO clip into your pedals, are more efficient, not everyone can purchase them or wants to go to the gym in bike shoes. There is no requirement to have biking shoes- whether you plan to use the cages or clipless- make sure to keep your feet on the pedals and the give a full effort.
Bike Fit 
Another aspect of the indoor cycling game that only adds to the fun is appropriately fitting the bike to you and your needs. On my first road ride through Teton National Park, my bike was incorrectly sized, and after the 100+ mile ride I could barely stand up. I overextended the inner workings in my knees and was unable to comfortably walk for a few days. For a reasonable rough estimate, be sure that the saddle height is similar to the height of your hips. Adjust accordingly to account for your leg length. Be sure that you have a slight knee bend on the bottom of your stroke to ensure that your knees are happy and you have a good experience.
Make sure to warm up
While similar to stretching, warming up and cooling down are essential parts of a proper workout, especially in colder weather. The reason for this added tension, muscles get tighter in the colder weather. In the colder weather, it takes longer to warm up, and that increases the possibility of injury or muscle damage. To combat that possibility, be sure to take a few minutes to stretch and then get warmed up on the bike before you put the pedal to the metal and get after it.

https://www.webmd.com/fitness-exercise/features/do-your-muscles-hurt-more-when-its-cold-out#1
Structure
is the key to a great workout
One of the most common mistakes for indoor cycling is failing to make a plan. When cyclists prepare an outdoor ride, their route is composed of hills, flats, Mt. Nebo, and other ways to mix up the difficulty. However, riding indoors tends to lead cyclists to get in the saddle and simply spin for an hour. One way to combat this stagnant riding is to make a plan for your ride. I had a spin instructor who would get a while board close her eyes and ask the class if she should go up or down and continue questioning until she ran out of room on the board. She would then divide this graph into segments representing the session, and that was our plan. We were to hold ourselves accountable for the change in intensity since we helped decide the ride. By making it visible, it was easier to adjust my intensity between climbing Guardsman Pass or the Utah Lake loop. See below for additional ideas for a better workout.

Don't be afraid to be ambitious. When structuring a workout or planning what type of ride you will do, be ambitious. Don't be scared to let your quads burn a little bit. Just say "shut up legs" and finish your ride.
Media integration
Sadly, indoor riding does not come with the same views that outdoor riding does. However, the techy cyclists of the world developed many different programs which allow riders to ride together and also ride all over the world. While it does cost a little bit, it is better than riding in a cold, damp basement. There are different competitions, and

Zwift

has the capability, depending on your riding setup, to adjust the difficulty in the trainer. With some trainers, data from cycling computers can be uploaded so that riders can tune their trainer adapt to the exact conditions of a previous ride. I mean who doesn't want to ride Empire Pass every day of the winter.

Another media option that professional spin instructors utilize is music. When setting a playlist, be aware of the beats per minute. Instinctively, your mind will find the rhythm, and you will sync up your strokes with the beat. Align those higher beat count songs with the faster sections of your workout, or for an added kick, put some tunes on shuffle and ride with that beat for the song and adjust your intensity accordingly.
Don't afraid to change it up
There are so many great options for switching up a spin workout. Below is a list of possible curveballs to throw into your routine to get a little more effort into the session.
HIIT – High-intensity interval training.

Try a mixture of high intensity and low-intensity intervals. A conventional method is a 60-90-120 progression. This progression means 60 seconds at 90% then 90 seconds at 50% then 120seconds at 80%. Repeat this throughout the workout and don't forget to clean up all the sweat afterward.
Endurance

Endurance elements are meant to be a steady increase in intensity over an extended time. The key to endurance is never to let yourself coast. Always be pushing.
Climb

Seated- See that mountain over there? Pretend you are climbing it on your bike

Standing- this falls into the category of the HIIT elements. Be aware that if your RPM drops below 60, consider reducing the resistance just a little bit.

Jumps

Pick a number between 1-10. Use this number and sit for that many pedal strokes.
Sprint

Sprinting is the definition of high-intensity. Give it all you've got and

make

sure to sprint for the line.
Make sure to manage progress
Heart monitors are a great way to monitor progression. Using a heart monitor allows you to see your progress and make sure that you are always pushing yourself. If your heart rate is too low, get on the gas. This type of monitoring is an additional way to mix up your spin cycle.

RPM- Some bikes do, and some bikes don't but

be

aware of your RPM. If those get too low, consider lightening your resistance and keep pushing. Having to readjust your effort to reflect your RPM requires constant attention but allows for a more exact measurement of where a cyclist is in their progression.
Never forget to hydrate
Hydrate before, during, and after your ride. You get some water. You get some water. EVERYONE GETS SOME WATER.