Posted on
By Stephanie Roberts
Posted in Kids bikes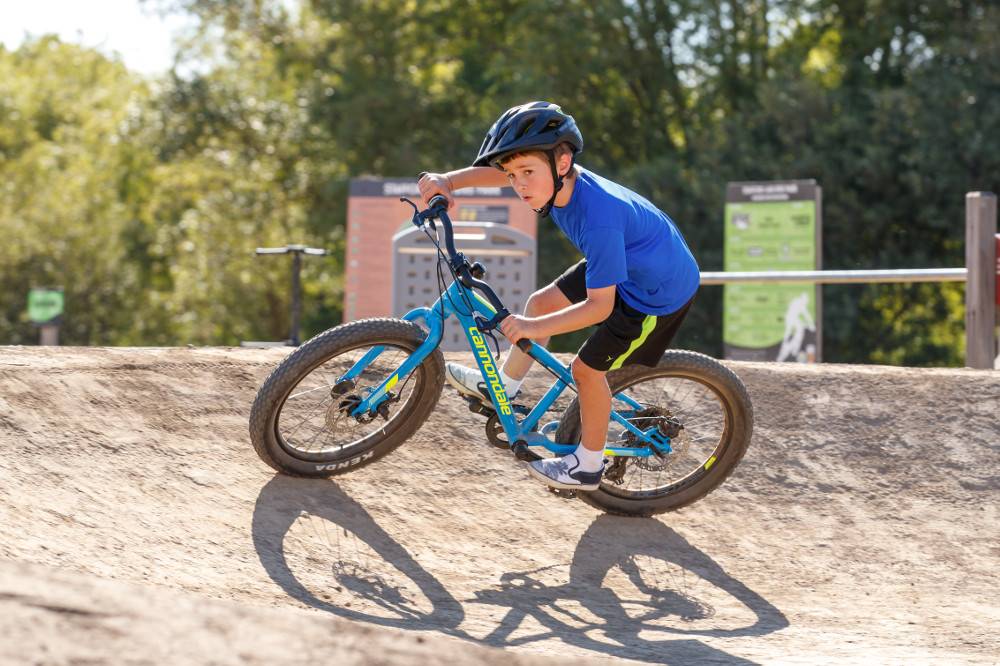 Giving a child a bike is a memorable moment. Here are a couple of quick tips on buying the perfect bike for your kiddo!
6 Things to consider when Purchasing a Kids Bike
Have you ever had the idea to buy your child a bike for Christmas or for their upcoming birthday? Not only are you proud of yourself for coming up with the idea, but you're ecstatic about how easy the present sounds. You can kill two birds with one stone! They have outgrown their old bike and need a new one and since it's usually a pricier item you don't have to shop for nearly as much stuff. Perfect!
After arriving at the store you may start to rethink your brilliant gift idea. There are rows of different sizes, styles, and colors of bikes. What if you nailed picking out their favorite bike, but they can't ride it because it's too big or small? Or the bike is too advanced for your child's age? Then the bike will get left in the garage to collect dust and by the time they have the skill level to ride it the bike has become old news.
That is why we have come up with the top 6 things you MUST consider before purchasing a kids bike.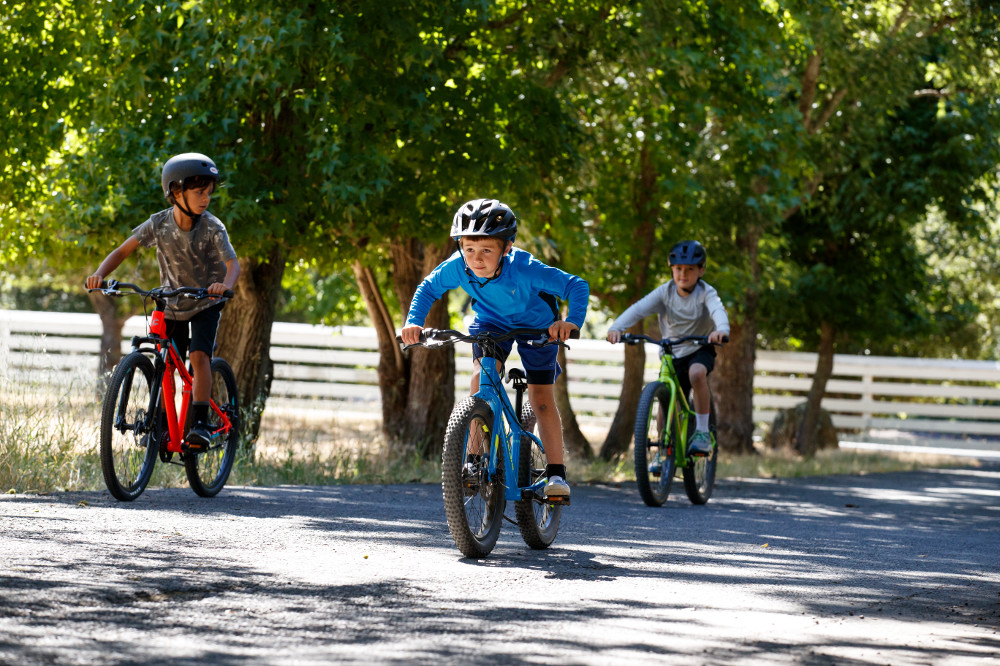 1.) Age
When thinking about fitting your child for their new bike height may seem like the first or most important factor to you. Although the height of your child does play a big role in picking out a bike it is not the only thing, while you need to choose a bike that fits, you should also get a bike that is appropriate for their age.
Most children's' ability and mind develops roughly around the same speed. Their height and weight can vary drastically by their age. So, in relation to the height of your child it won't tell you if your child has the ability to pedal, stabilize, or stop a bike. A younger child won't be ready for a bike with shifters or maybe even hand brakes. Even though height wise they fit on a bike equipped with brakes and shifters.
2.) Child's Ability
As parents we usually try and look at the financial aspect of purchasing a bike and for our wallets sake buying a bike our kids can grow into seems the most reasonable.
Yes, financially this may make sense, but for your kids this is not the best option. Having confidence and control on the bike is the most important. Think about it... trying to ride a bike that is too big for you to ride or control makes it for a miserable outing.
So, take into consideration your child's ability when pick the frame type. Can they pedal, stabilize and stop a bike? Then decide what size of bike your child needs. Children develop at different speeds and if your child is still learning to ride don't put them on a bike they aren't ready for. This will make the child more uncomfortable while riding and less confident.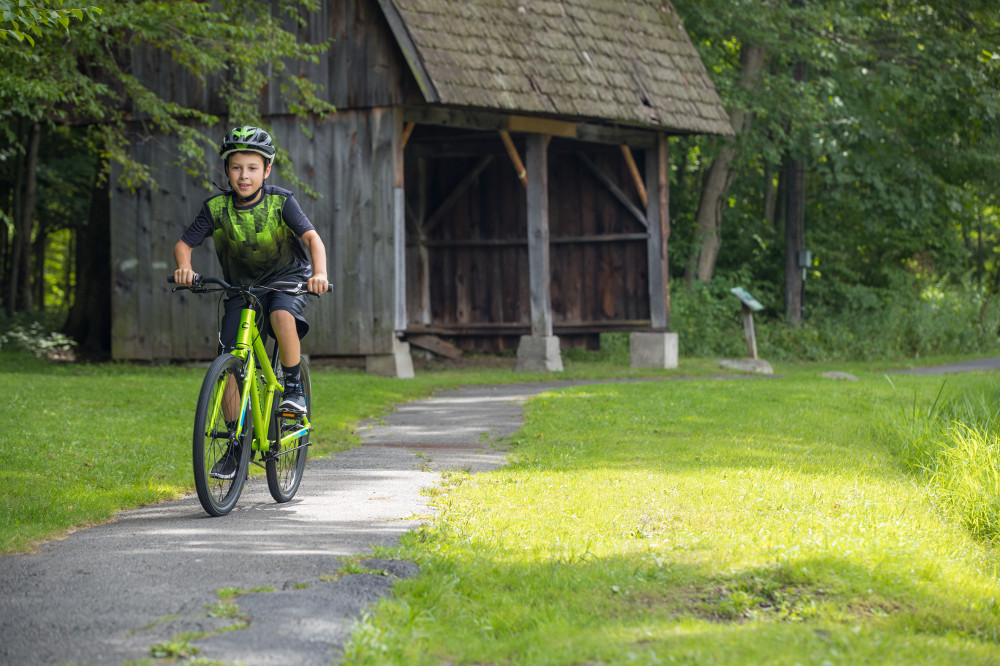 3.) Fitting the Bike and Child
You know you found the perfect fit for your child when they can
Have comfortable clearance when straddling the top bar with both feet planted on the ground.

Sitting on the saddle they should be able to put their feet on the ground. A child who is very skilled at riding and is on their 2nd or 3rd bike should be able to touch the ground with their tippy toes, while a child who is on their first bike or still hasn't master balance skills should be flat footed.

Able to reach the handlebars with a slight bend in the arms. If the bike has a V or Disc brakes they should be able to grasp them and apply enough pressure to stop the bike.

When your child is riding they should be seated in an upright position with their legs and knees not hitting the handlebars.

The following Chart isn't a definitive guide but a good start on sizing your child's bike
KIDS' BIKE SIZING CHART
| | | |
| --- | --- | --- |
| Child's Age | Child's Height | Bike Wheel Size |
| 1-3 years | | One-size balance bike |
| 2-4 years | 2'10" – 3'5″ | 12-inch training wheel |
| 5-7 years | 3'5″ – 4'0″ | 16-inch training wheel |
| 7-9 years | 4'0″ – 4'5″ | 20-inch wheel |
| 9-11 years | 4'5″ – 4'9″ | 24-inch wheel |
As your child grows you can raise the seat and handlebars to better fit your child, be sure to read the owner's manual for limitations on this. Remember a well fit bike is a comfortable bike and the more comfortable it is the more confidence they will have when they ride it.
Choosing the right size is ultimately about making sure they are comfortable. If your child is equally comfortable on two sizes of bike such as a 16" or 20" go with the bigger size of wheel. However don't force your child onto a bigger bike because you want them to grow into it. The key is to make sure they are comfortable.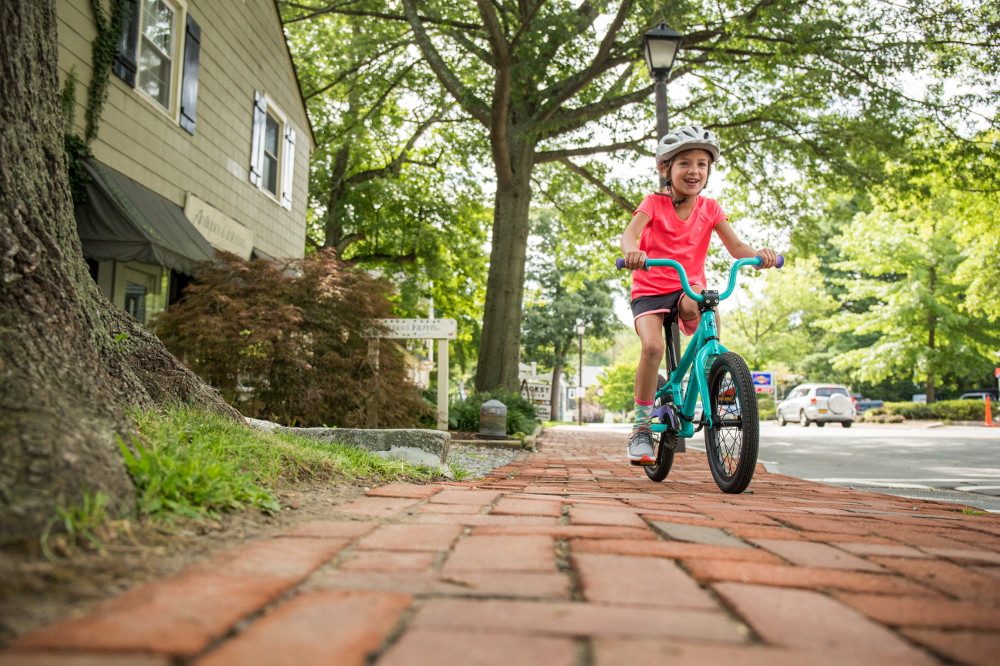 4.) Longevity
How soon will my child grow out of this bike? This a common question parents ask themselves. A child's growth rate can vary drastically depending on each child so to put a definite time on this can be difficult.
As stated above you can adjust the seat and handlebars as your child grows. One sign that your child has grown out of his/her bike is a lack of space between their knees and the handle bars. You may want to consider finding a bike with a lower top tube for better stand-over height and ergonomic design.
5.)Resale Value & Bike Store vs. Department Store
A lot of people tend to steer away from purchasing a bike from a bike store because the cost of a better quality bike can seem budget-breaking. Think of it as a return in your investment. You can purchase a $100 bike from a department store and by the time your child outgrows it it will retain $0 return value. If you purchase a $300 bike from a bike store you may be likely to resale it for at least $150. Giving you a 50% return value or more.
Purchasing from a bike shop will also give you somewhere to go for advice, support, and safety checks. Regardless of where you are located we highly recommend building a friendship with your local bike shop. You never know when you will need some sort of direction in picking out that perfect bike for your kid or yourself!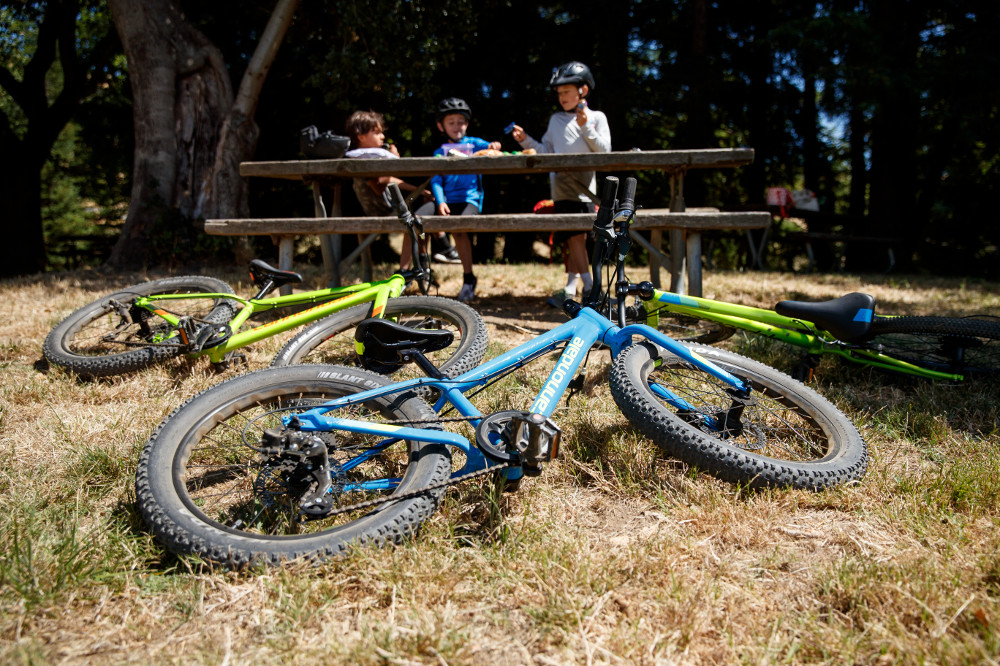 6.)Weight of the bicycle
Many department store bikes are made out of steel and use heavier components thereby making the bike extremely heavy. Some bikes can even weigh as much as the child. Imagine trying to ride a bike that weighed as much as you do. Just because its heavier doesn't make it more durable. Lightweight aluminum bikes can offer a more durable option and weights that are more in line with your child's weight. As a rule of thumb, a kid's bike should weigh no more than 40% of your child's weight.