This is our passion!

We're bike evangelists. We're all about everyone having a great time on the bike. We don't care if you're just learning to ride or if you're a hardcore athlete. We're here to help you.
We love having friends and customers come to us with their recent victories. It's why we do what we do. We began in 2009 with big goals and a tiny warehouse. We've since then outgrown that warehouse, but have the same determination to improve the experience for our fellow riders.
So whether you're looking for great deals or performance tips we hope to help you become the happiest rider possible! Life is short, so pedal hard!
Cycling Experts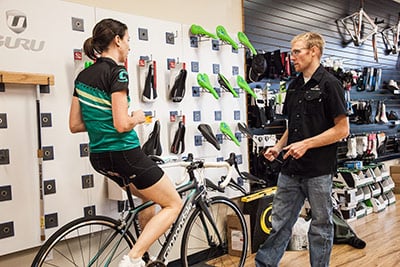 We want to help all those who are just starting or those that are already passionate about road cycling, mountain biking, or triathalons. Our mission is to get our community active and get them to take their cycling to the next level. Even if you aren't in the market for new gear, come on down and talk bikes with us.
We love bikes! They are our passion. They are who we are. Our goal is to always be the FRIENDLIEST bike shop in Utah County! We pride ourselves on hiring people who are passionate about about cycling. We make sure our staff uses and tests the products we sell.
Community
We are a place where people can come to feel part of a community. Cycling is a team sport and is more fun with others. We want to encourage people to come to our group rides and be part of our "Noble Tribe." We are always accepting of new people who want to join our tribe. This is not a society of snobs or hard core riders, but a place for everyone.

We started this shop because we never felt comfortable in other bike shops. Our goal is to make this the friendliest bike shop in Utah!

Powered by