Posted on
By Spencer Felton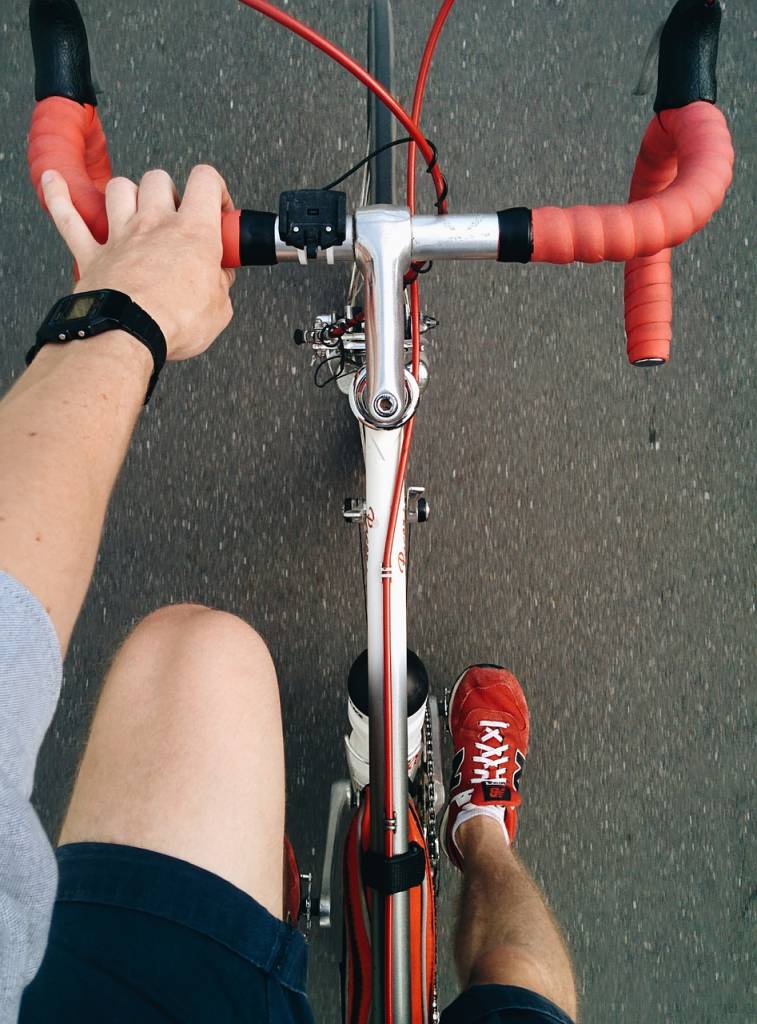 Bar tape is one of the most important aspects of riding because it's where you rest most of your upper-body weight while you ride. Bar tape can help relieve hand numbness as well as look great when done right.
The 6 Things you need to know about Bar Tape
Good bar tape can make a good bike great. However, bad bar tape can make a great bike a horrible bike that you won't ride. A gentleman recently came into the shop and said that he had just undergone carpal tunnel surgery and that he thought he should put some decent bar tape on his bike. Bad bar tape can cause serious problems in the hands and wrists because it can cut blood flow from the hands or pinch nerves that are already tender from writing Noble Cycling blog posts. Here are the 6 things you need to be aware of when looking into buying and installing bar tape.
Thickness
While bar tape is seeming consequential, it is one of the main contact points you have with your bike. Besides the seat and the pedals, the bars are where you are going to place most of your upper body weight. This upper body weight will, depending on your riding style, get compacted onto the balls of your wrists. This is where the thickness of your bar tape comes into play. If you are a ride who maintains your hands in the drops, thin bar tape will give you an incredible amount of control, but will also ensure that you feel every single bump in the road. Alternatively, if you enjoy a more laid back style of riding with your hands on the hoods, the thicker bar tape will provide a bit of cushioning and protect the nerves that pass through the wrist and prevent a numbing of the fingers and hands.
Materials
When choosing a material for your bar tape, it all comes down to personal preference. Many of the different materials generally fall into either the thick or the thin category so be aware. If you are looking for a thicker tape, you will want to try out a cork or foam type material. If you are looking for a thinner tape, you will want to look for something like a leather or rubber/silicone material. Also, for those that enjoy the feel of the thinner materials but want a thicker feel, be cognizant of available pads that are available to go under the tape for some extra padding.
Appearance
Appearance is everything. For those that are looking to make a fashion statement with their bike, bar tape is a great way to accessorize you beautiful carbon or aluminum stallion. However, be aware that while riding, there is a tendency that bar tape will get dirty. Sweat, nutrition gel, oil, acid rain, etc., all of these things will be on your tape so pick a color and material that you can live with getting dirty. Some of the more modern tapes, especially the silicone, rubber, and plastic tapes, can be cleaned with some simple rubbing alcohol and a rag while the classic foam or leather tapes can get stained very easily.
Durability
Riding takes a toll on your bar tape. In a sprint there is constant grapping of the bars and the torque applied will put your tape through the ringer. If you ride past an uncut tree or bush your bars will take the brunt of that assault. The most durable tapes are going to be the silicon or rubber tape. Be aware of the kind of riding you will doing as well as how long you want your tape to last.
Weather performance
At times, cyclists run into the occasional storm and are forced to pedal through. In these types of conditions and maintaining a good grip is mandatory. However, some of the different materials give up some of their touch in harsh weather so be sure to take into consideration the weather where you will be riding. For example, the silicon tape becomes slightly slippery in the wet while the foam becomes waterlogged and oddly squishy.
Wrapping Tips
When wrapping, take into consideration what type of backing you have on your tape. Many of the inexpensive tapes come without any sort of adhesive backing while some of the expensive ones do come with adhesives. For those that can wrap tight, adhesive is obnoxious, but for those that don't like a tight wrap job adhesive is a great tool. If you have never wrapped before, practice by wrapping your or a partner's ankle with an ace bandage. Make sure to get complete coverage without any holes. When you go to wrap your bars, be sure to keep a consistent angle as you move through the drop area. It may be personal preference or cycling doctrine, but it is easiest to wrap your bars if you start down and work your way up and onto the top of the bars.